equiBALANCE - A PILATES AND FITNESS PROGRAM FOR EQUESTRIANS
Developing balance, centering, endurance, flexibility and strength for riders and drivers of all disciplines. Offered through classes,workshops and individual sessions.
After many years of preaching the importance of fitness for rider as well as horse I found an additional and very important component to true balanced fitness-Pilates. In 1994 I first experienced a week of Pilates prior to a major competition and was astounded in the difference that it made in my riding. Being undaunted by the fact that it was not offered anywhere in Virginia I decided to spend the next year in certification in Dallas, TX.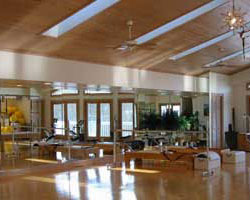 It was at the Oasis Physical Conditioning Center where owner, Alice Ann Daily and my mentor, Larry Lane worked through the Physical Mind Institute to assist in my completion of this first level of certification in Pilates. Since opening the Center at Walnut Grove in 1996 many great teachers have passed through the doors sharing remarkable information and certifications in multiple physical mind disciplines. Each year has brought further certifications and development of myself and past staff. Today our main focus is still in Pilates but with the addition of equiBALANCE as a logical segue to combine the equestrian aspects of a Pilates center on a horse farm and with my husband, Shawn Ricci's total focus and training in equestrian vaulting. We are looking forward to seeing where this process will take us and are more than willing to share the work and values of a balanced smooth transition from "on the ground to on the horse".
The Center at Walnut Grove also offers pilates weekly. Please contact Karen Waldron for more information.